End of September round up
Posted Mon 30 September 2019 in garden
Compare with last year.
Weather
The average temperature was 12.8C with a minimum of 3.2C and maximum of 21.4C It rained on 18 days, with a total of 85mm.
Picture round up
I'm still way behind, so just a set of pictures from the month.
Astrantia 'Moulin Rouge'
New this year and much better than my existing one as it has a bit of colour to it.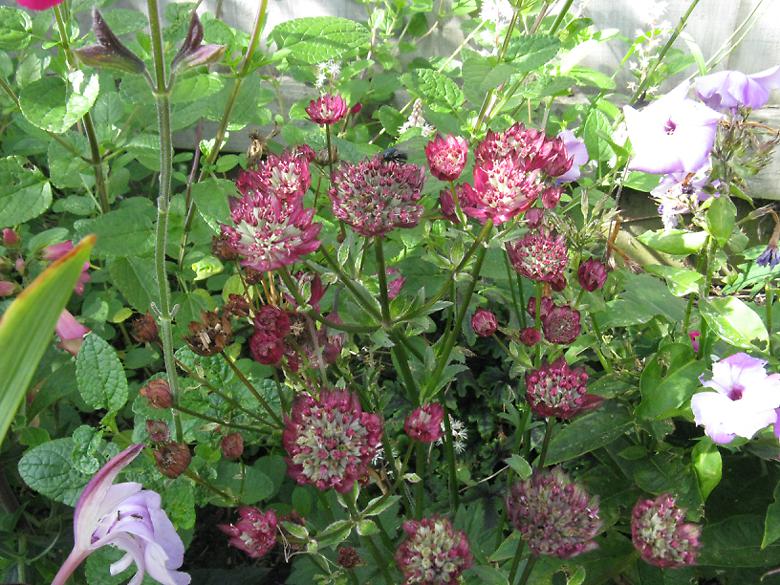 ---
Butterflies
This month it is the Red Admirals that have dominated, never more than one or two at a time, but still a frequent visitor.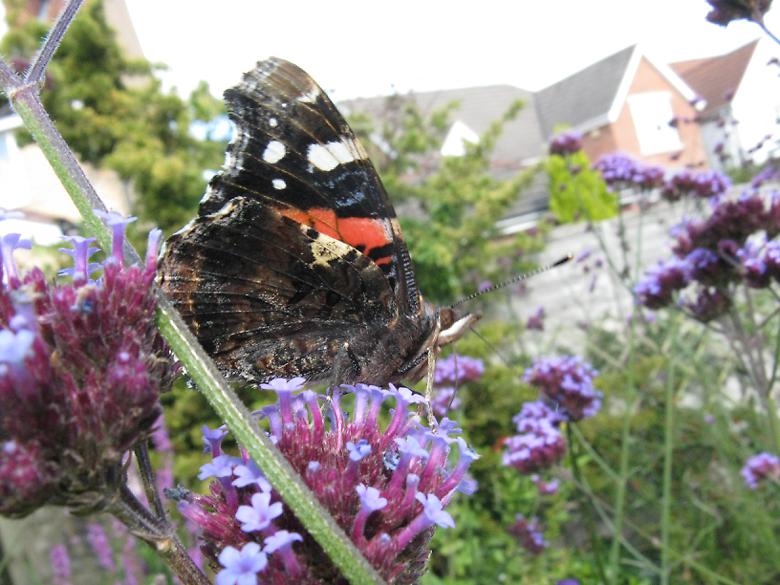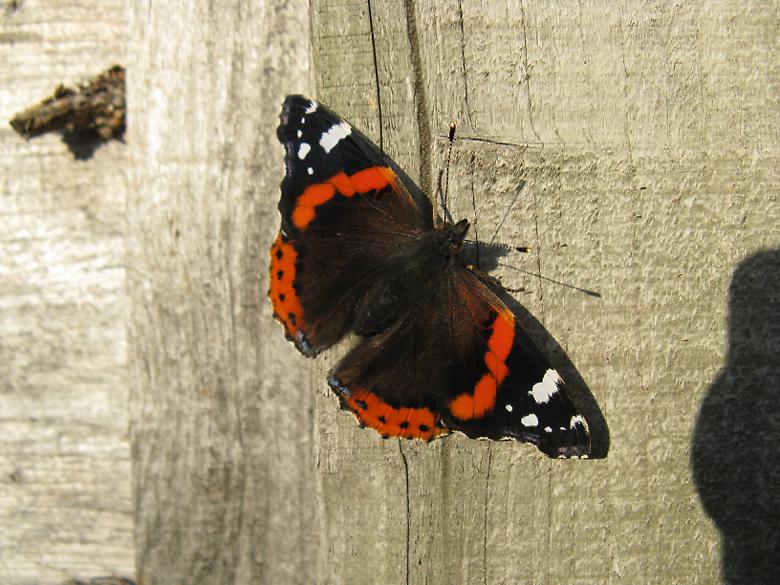 ---
Actaea simplex 'Brunette'
This is a slow growing plant and I can't say that it is particularly larger this year than last, but there are more flowers at least.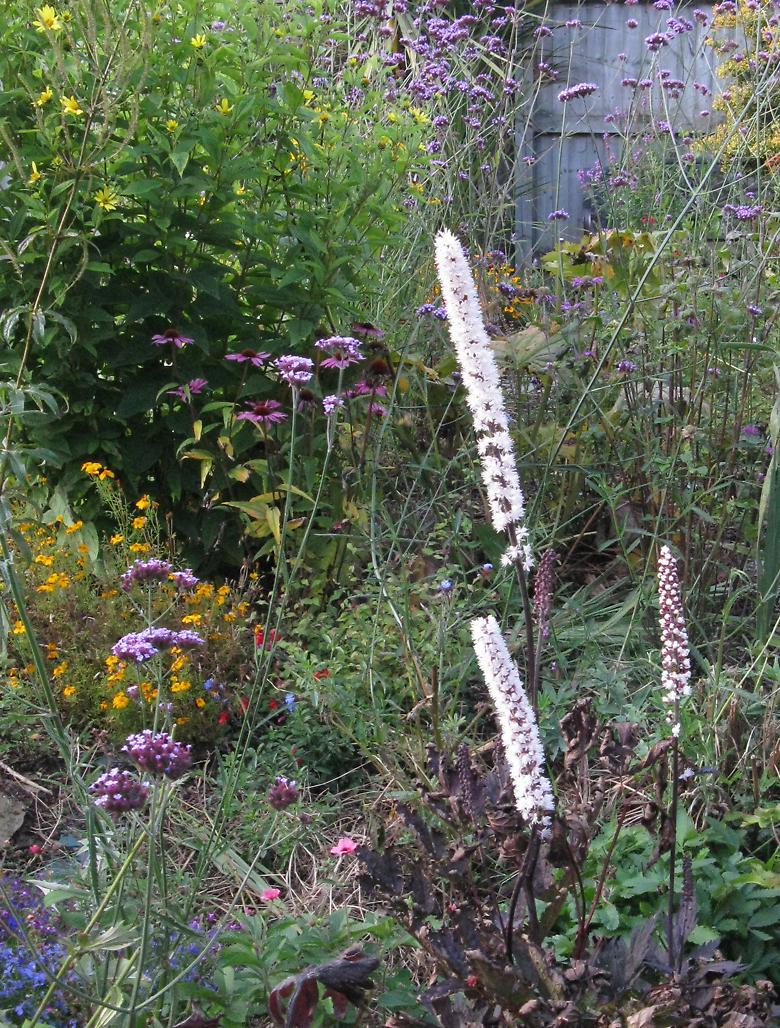 ---
Lobelia 'Bee's flame'
Also a patch of Rudbeckia.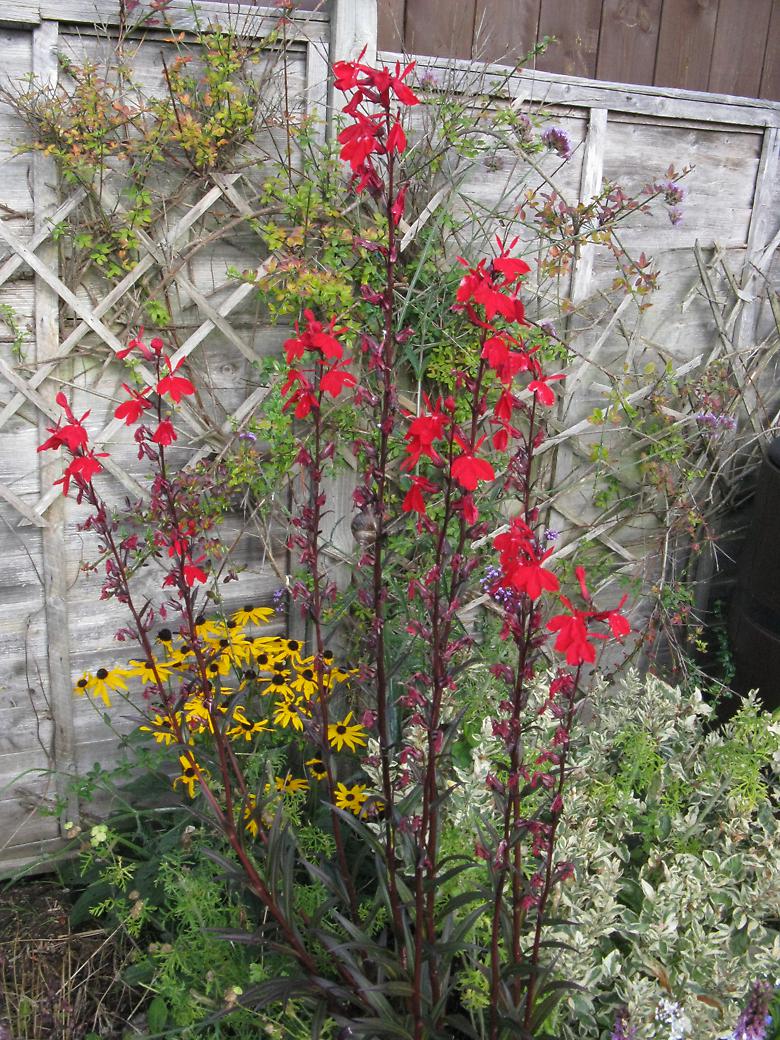 ---
Rudbeckia, Alstroemeria and Gladioli
There is also a white Phlox here which has done well as the only surviving one from a packet bought from Aldi (or Wilko, I forget).
I had two kinds of Gladioli last year. The blue one has put up leaves but did not flower. These 'Candy floss' ones have mostly flowered again, but they have also all collapsed or even snapped off. I am removing all of them after this year.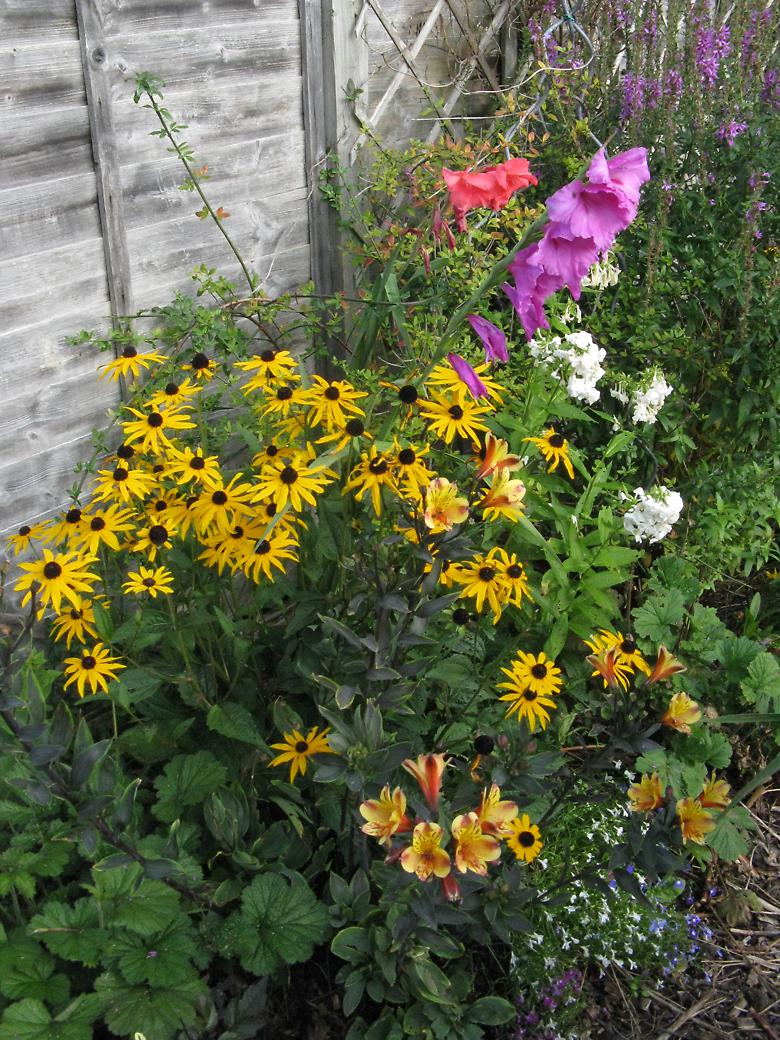 ---
Helenium 'Red shades'
This is interesting because there is one stem with yellow flowers and one with red flowers. They came in the same pot and do appear to be connected at the bottom. So just weird.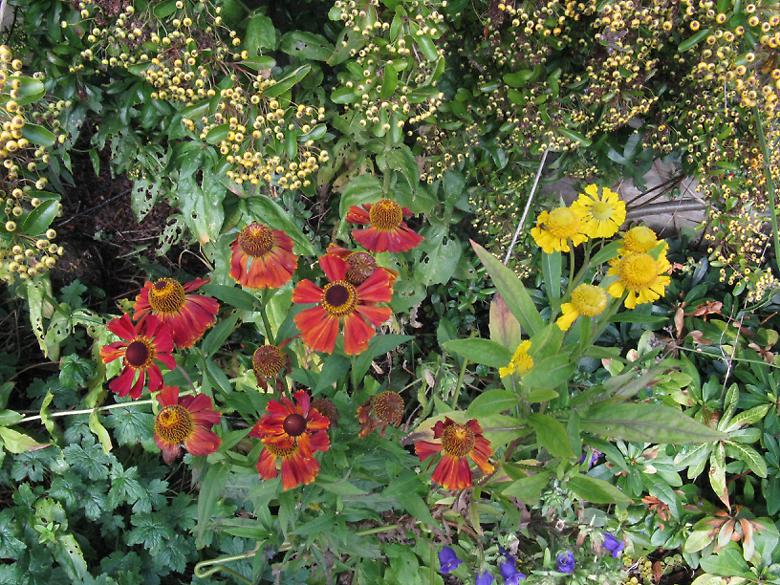 ---
Sedum ewersii var. homophyllum

Rose carpet
I don't much like the large leaved Sedums, but I saw this and thought it was fantastic. It is a mass of flowers.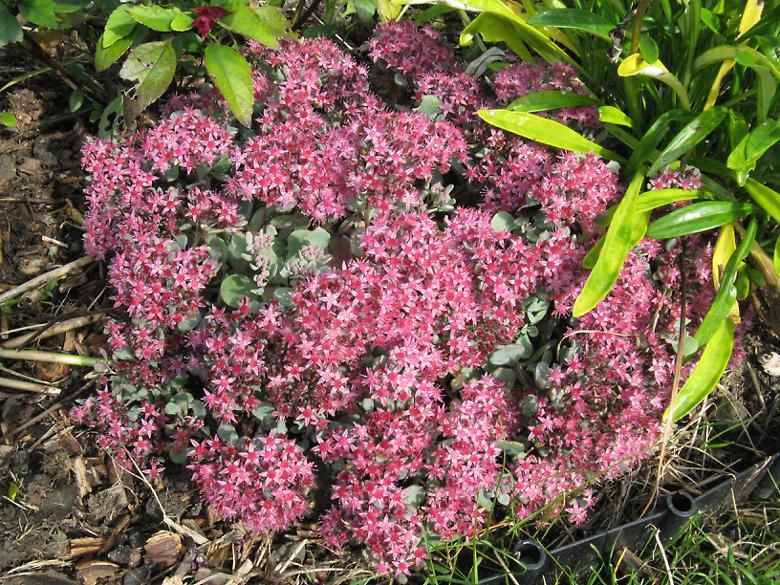 --
Helianthus 'Lemon queen'
This is way bigger than it was last year. I actually moved it this spring, and yet it has grown to be as tall as me and although it starts flowering with just one or two flowers it is now a mass. It looks particularly good in the evening with the flowers almost look like they are glowing.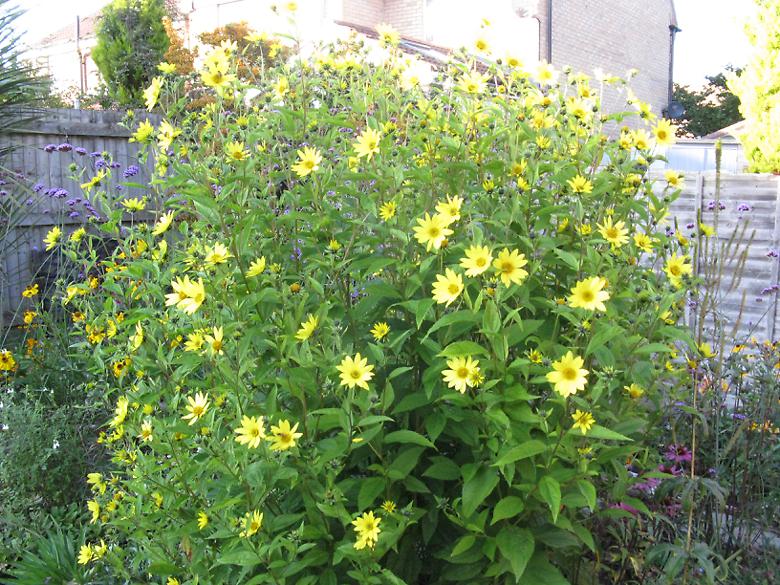 ---
Cyclamen hederifolium
This grew from a seed and was given to me a couple of years ago. There seem to be more flowers this year and it seems to be establishing well.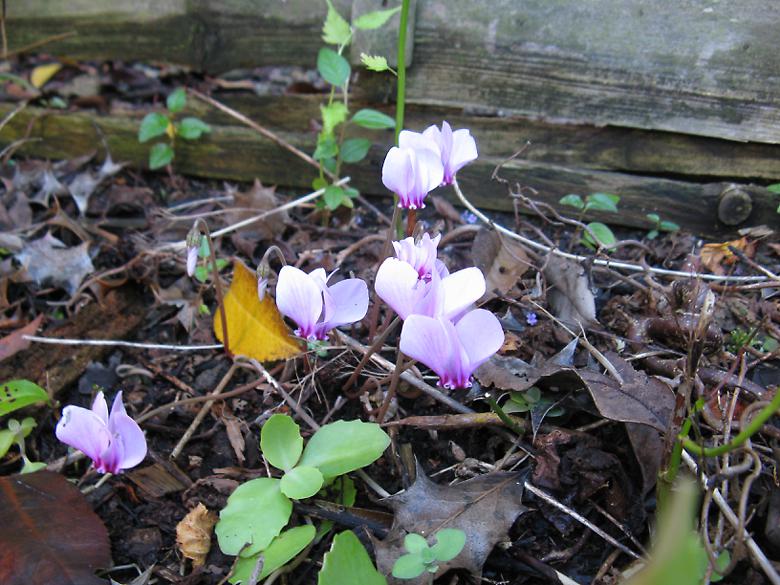 ---
Buddleia
It funny I've always wondered why I don't see these growing as they seem to grow anywhere given the slightest chance.
But I've not seem one until this year, when three turn up at once. One is in a container and another in the back garden and this one at the front right next to the drive - I'll have to move it. They all just appeared, I didn't plant them.
This one at the front even flowered in its first year.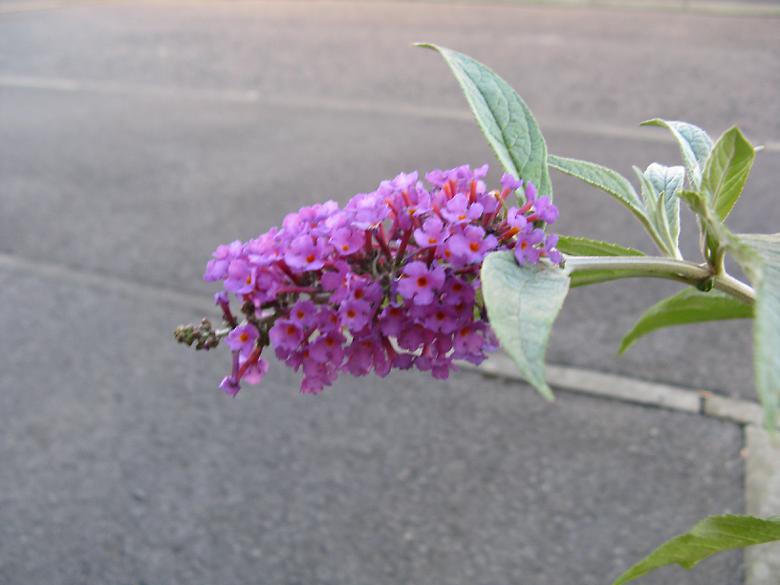 ---
Verbascum phoeniceum ex 'Violetta', grown from seed
I got these seeds in the HPS seed scheme earlier this year and it has flowered in its first year. There are only a few flowers out at the same time, so it doesn't make much of an impression all by itself. Hopefully it will survive and be better next year along with some of the others that haven't flowered yet.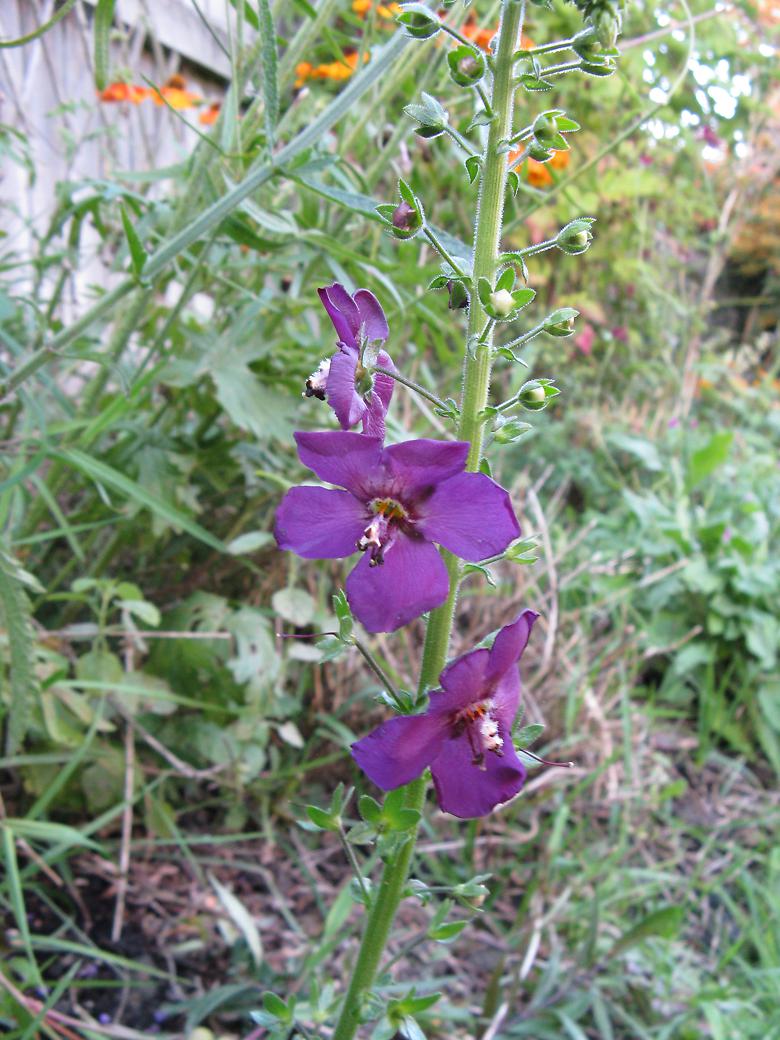 Posted by Steve