End of April round up
So what happened in the garden during April? It is very different to last year, all the early flowering plants were much delayed - whereas last year I was talking of cutting off the final dead daffodil flowers, this year they are mostly still in flower with only the very early ones that are now finished.
On the other hand the later flowering plants seem to be at much the same stage as they were last year.
Some pictures
A few picture that have not been shown in other entries this month.
---
This is Pulmonaria "Trevi fountain". It has interesting leaves and will hopefully cover a bit of this space that is shaded by the fence for most of the day. The flowers are not easily visible from the house, or indeed until you are fairly close.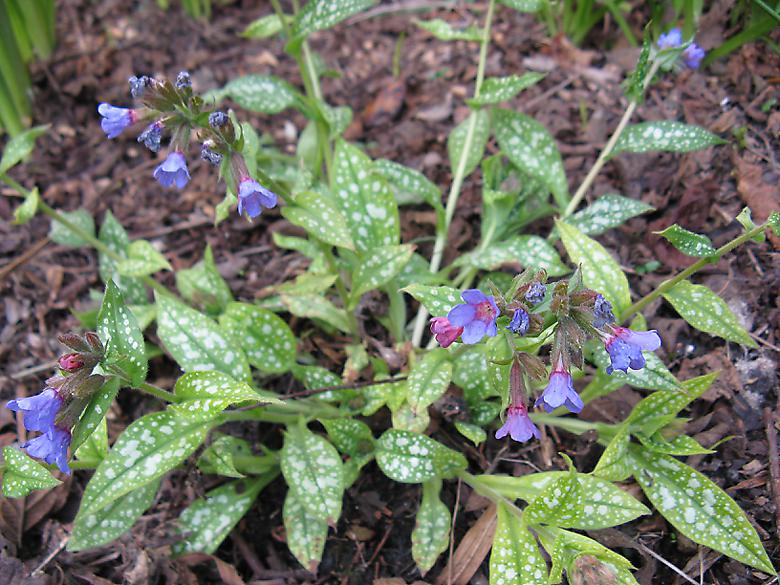 Tiarella
I have three different kinds.
The "Pink skyrocket" variety has masses of buds, but doesn't have as many new leaves as the others. It is also still a while from flowering.
---
This one below is "Sugar and spice". The old leaves are darker and almost shiny looking. There is a new layer of leaves held above the old ones, that are much lighter and without the shiny look. They still have dark centers. By far the most interesting leaf of the three. It is also the first into flower, though it is by no means fully out yet.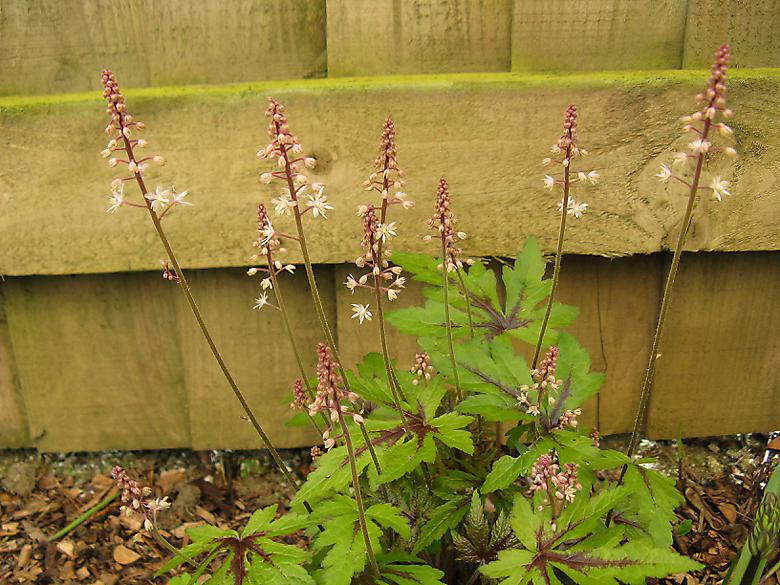 ---
The final one is "Spring symphony". It is just starting to flower. The leaves do have a pattern but are much plainer green compared to the Sugar and spice. They are also thinner and have been eaten a fair bit. Sorry only the furthest flower is properly in focus.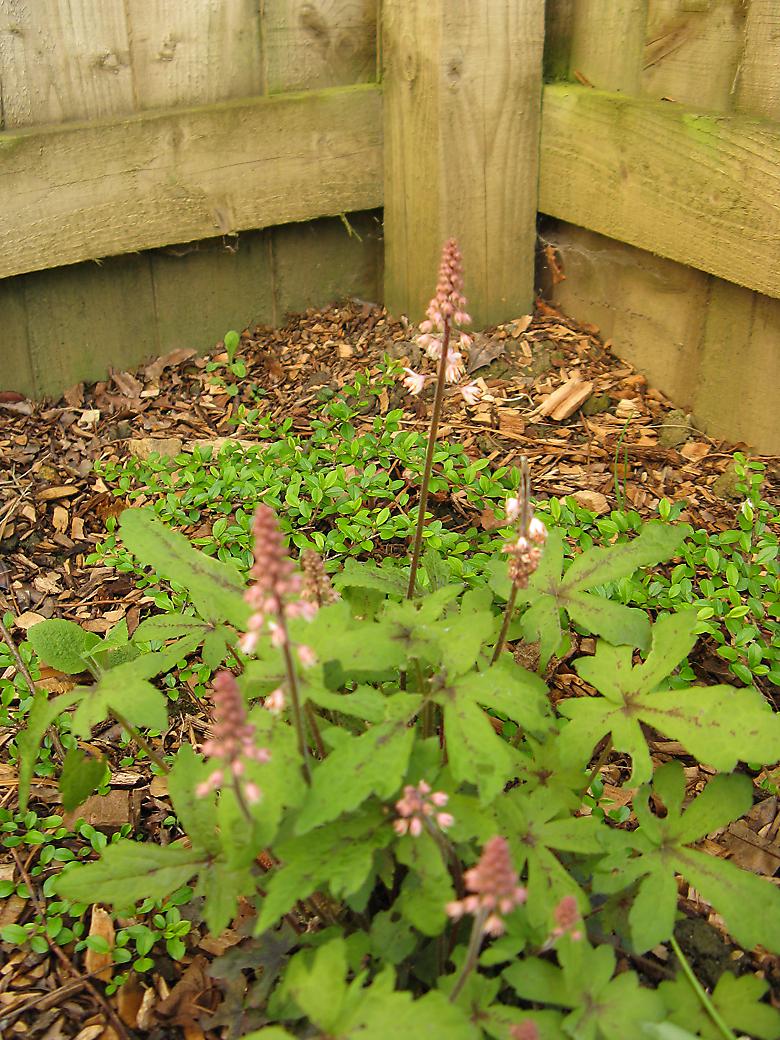 ---
My rosemary has not flowered before, but it has finally a small number of flowers this year. In general though it is not looking very healthy, even worse I think than it did last year.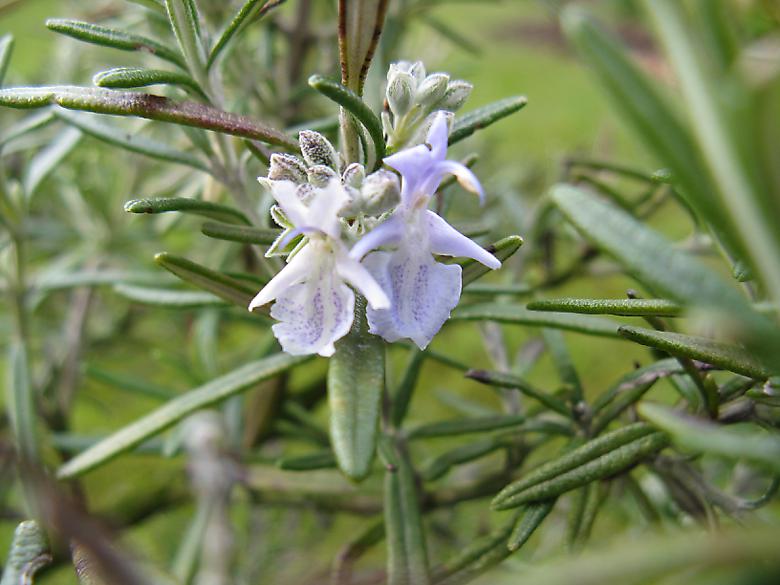 ---
The Eryngium "Neptune's Gold" has formed a nice mound of leaves. Lets hope that this year is it going to do more than this.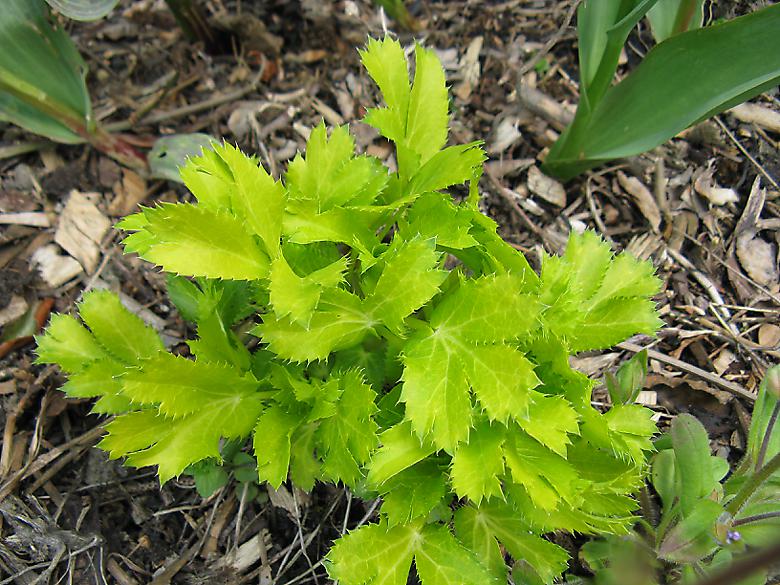 ---
I thought this tulip was going to be the one that was in exactly the same place last year, but it turns out it is completely different. It must be from the mixed "Triumph" batch that I planted. Don't know what happened to the previous one!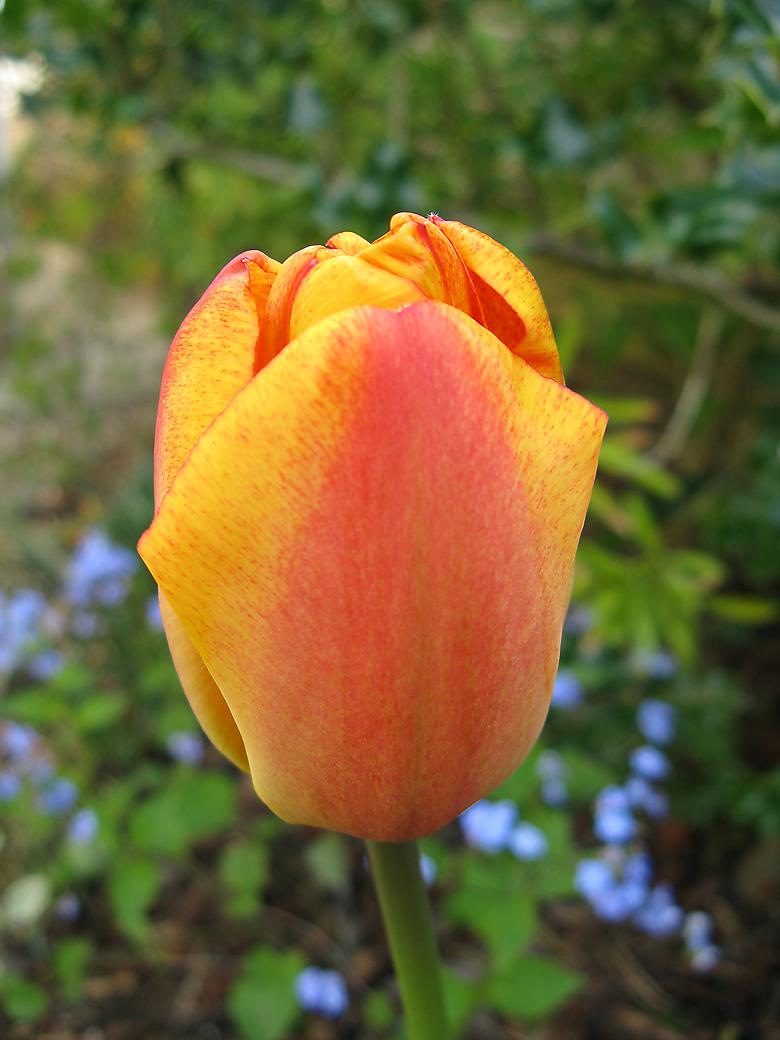 In flower this month
All these were in flower at some time during the month.
Brunnera
Primula
Anemone blanda
Daffodils
Muscari
Tulips
Ipheion
Chionodoxa
Pulmonaria "Trevi fountain"
Rosemary
Tiarella
Geum "Totally tangerine"
Crocus
Perennial survival watch
Amazingly, pretty much everything has survived the winter.
A Gaillardia looked pretty dead and I dug it up to plant something in its place. But since there looked to be signs of life, I've put it in a pot to await developments.
The Salvia nemorosa has maybe signs of life at the base, but I am not sure yet.
One of the (perennial) Lobelias may have died. It has shoots at its base for most of the winter, as the other one had, but they have now gone since the last cold spell. Still haven't given up on it. It was the best thing last year, so I hope it does make it.