Bulbs
Posted Fri 26 October 2018 in garden
This year I thought I would try out buying bulbs via mail order. I was mainly looking for tulips and I did some research to find varieties that flower year after year. As it happened I ended up with a lot of bulbs, but not so many tulips!
I've also got the tulips in the trough container which have been multiplying over the years. I removed a few which I will plant in the ground. They already had shoots and a few roots.
Also, I got some smaller daffodils, 'February gold' and 'Jetfire'. Some more Ipheion 'Charlotte Bishop', and some I. 'Jessie' which were recommended by Jim and look good.
Also more anemones which I shall spread all over, they flower early and then disappear, so they will go well beneath later growing plants.
Finally some spring flowering Gladioli, and blue Alliums.
They were from Rose cottage plants
Here is the full list.
Gladiolus communis subsp. byzantinus AGM Pack of 5 bulbs
Tulipa 'Ballade' AGM Pack of 10 bulbs
Tulipa kolpakowskiana Pack of 10 bulbs
Tulipa schrenkii Pack of 3 bulbs
Hyacinthoides non-scripta (English bluebell) Pack of 10 bulbs
Allium caeruleum Pack of 20 bulbs
Puschkinia scilloides var. libanotica Pack of 20 bulbs
Narcissus 'February Gold' AGM Pack of 10 bulbs
Narcissus 'Jetfire' AGM Pack of 10 bulbs
Ipheion 'Jessie' Pack of 50 bulbs
Ipheion 'Charlotte Bishop' Pack of 50 bulbs
Anemone blanda 'Blue Shades' Pack of 100 bulbs
They came in a cardboard box with newspaper padding. Each set of bulbs was in an individual labeled brown paper packet.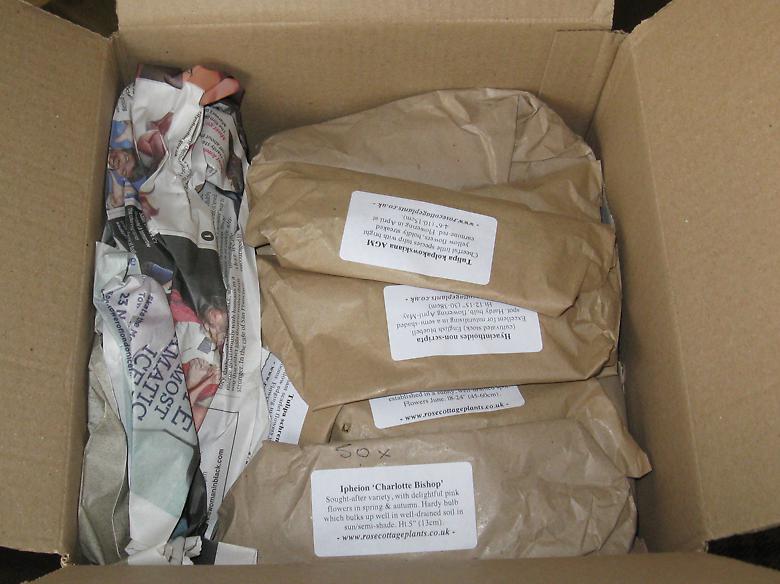 Posted by Steve